micromodul DX2 is a small DJ controller that contains everything you need for computer-based mixing if you prefer to use an external DJ-mixer or as complement to
DJ2
. The DX2 is optimized for NI Traktor DJ-Studio and differs from all other controllers on the market because it does not have any mixer elements like faders and EQ's. DX2 offers a lot of other nice controls like the amazing loop and FX functions. The FX section contains 4 pots + 4 buttons for perfect control of the new Traktor DJ Studio 3.0 effects. (also very suitable to Traktor 2.x filter). Another strength of the DX2 is the possibility of sensitive pitching by two encoders and seek/scratch functionality by two other encoders. The fifth encoder is assigned to the track list browser. As of Traktor DJ-Studio version 2.1, you can use the DX2 immediately by using the different setting files which are shipped with the controller.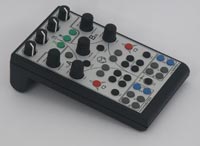 Modern Djing – continue using your favourite external mixer!
While the
DJ2
offers all main functions, our DX2 complements it with all the additional switch and FX controls. The 5 encoders on DX2 share the functionality of 2 encoders on DJ2 so you do not have to switch between the different modes like on
DJ2
.
DJ2 and DX2 are a really great team.
Use two devices
DJ2
/DX2 if you want to play a four-deck-set (Traktor DJ Studio 3.0). It is very easy to chain the devices by midi connections. The DX2 can also be used with other programs. You can not program the DX2 or assign controller numbers or key numbers, but you rarely need this function with current programs. The DX2 is very compact and easy to transport, and you do not even need any power adaptors since it works with standard and rechargeable batteries.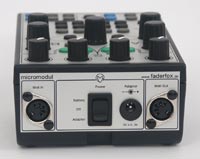 - Special DJ-controller optimized for Native Instruments Traktor DJ Studio
- Setup files for Traktor DJ Studio as of version 2.1 are shipped with the controller
- Independent of operating system and computer type (PC or Mac) due to the midi interface (no driver necessary)
- Complement to DJ2 by loop functions and fx section
- FX section with 4 pots and 4 buttons switchable to 2 groups FX1/FX2 (optimised for Traktor 3.0, also very suitable to Traktor 2.x filter)
- 5 push-encoders for track browsing, seek/scratch and pitch functions
- 36 freely reassignable double-function buttons (transport, pitch bend, FX and loop buttons for each deck)
- Independent power supply by standard or rechargeable batteries 3 x AA cell, lifetime about 100 hours
- LED battery control
- Socket for an external power adaptor (4.5-6V DC - min. 50 mA)
- Midi-merge function
- Very compact design in a black, plastic casing (desktop format 180x105x70 mm, 450 g)
- Silver aluminium front plate with an anodised coating (abrasion resistant) and inscriptions
- High-quality pots and encoders from ALPS
- Expandable system by other micromodul controllers (easy chaining by midi connections)
- Compatible to the 1st micromodul line (same cc/note numbers like DJ1)