micromodul LD2 is a custom-made, pocket-size controller for the usage with Ableton Live. It was designed as a supplement to our
LV2
. Whilst the
LV2
offers all faders, encoders, keys and a joystick, the LD2 has a lot of push-encoder functions for controlling different track and FX parameters. All this is achieved with 16 encoders, 9 keys and 36 LED's. You can set the encoders to 1-track-control,4-track-send-control, 4-track-EQ-control and FX-control by 6 group buttons. Use 2 buttons to select the track or track-group. All
LV2
-encoder-functions like sends, EQ's, clip-control, main group and FX are mirrored in the LD2. This means you have a full control set for the selected track. It's possible to change volume, pan, EQ's, sends, clip parameters and scrolling through the clips/scenes. The push buttons have some special functions like mute, solo, reset sends/EQ's and start/stop clips/scenes. The 4-track-modes allow a very convenient adjusting of the sends or EQ's of 4 tracks simultaneous. Another strength of the LD2 is the possibility to check the value of each encoder by a LED-bar. Last but not least all encoders have LED's to show statuses of their push buttons. Parameter feedbacks from the application are indicated by these 16 LED's and the LED-bar. As of Live version 4.1, you can use the LD2 immediately by using different setting files which are shipped with the controller – without the time consuming process of programming each separate control element.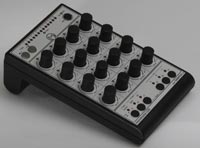 More endless pots for LIVE with easy plug & play.
The LD2 can also be used with other programs. It is suited well for software sequencers, VST instruments or any other midi gear. This controller can be used everywhere you need a compact instrument to send a lot of CC commands via midi. You can program each of the 6 groups and store it in 10 free setups (10 x 6 x 16 encoder functions). Programmable are CC/note numbers in groups of 16 ascending numbers independently for encoders and push buttons, rotarymodes like absolute/relative and an acceleration function. Push buttons can send CC or note commands independently of their encoder programmings. The device is very compact and easy to transport, and you do not even need any power adaptors since it works with standard and rechargeable batteries.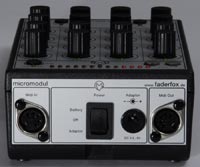 - Special controller for jump free control of continuing parameters (optimized for Ableton Live)
- Easy plug & play for Live by loading the setup files for Ableton Live as of version 4.1 (are shipped with the controller)
- Independent of operating system and computer type (PC or Mac) due to the midi interface (no driver necessary)
- 16 push encoders - switchable to 6 groups
- Different push button modes - CC toggle, note commands like a midi keyboard, acceleration function by holding down the push buttons
- Programmable are rotarymode (absolute/relative), CC/note number (in groups of 16 ascending numbers), acceleration function...
- Track select with two buttons for the Live-modes 1-track-control and 4-track-control (also remote control by LV2/LX2/LC2)
- 12 setup memorys to store the programmings
- Parameter feedback of button statuses and CC-values are indicated by encoder-LED's and a 13-part-LED-bar
- Independent power supply by standard or rechargeable batteries 3 x AA cell, lifetime about 30 to 60 hours
- Powersave mode after 10 minutes of the last movement (flash light)
- LED battery control
- Socket for an optional external power adaptor (4.5-6V DC - min. 100 mA)
- Midi-merge function
- Very compact design in a black, plastic casing (desktop format 180x105x70 mm, 450 g)
- Silver aluminium front plate with anodised coating (abrasion resistant) and inscriptions
- 36 LED's in different colors to display various information (low basic lights of all LED's for better orientation in dark club atmosphere)
- Expandable system by other micromodul controllers (easy chaining by midi connections)
- Compatible to the 1st/2nd micromodul line (same cc/note numbers like LV1, LX1, LV2, LX2, LC2)